Ash Spring Trail #247A
Important Note
Some older maps show the southern portion of the Basin Trail from Herb Martyr to the Greenhouse Road using the #247A number rather than this trail. This has been corrected in the latest editions of those maps.
Current Trail Conditions
Portions of this trail are quite rocky, and in the more exposed stretches you may find catclaw growing into the trail.
Length: 0.57 mi
Difficulty: easy
Condition: moderate
Elevation range: 5865 ft – 6125 ft
Elevation gain/loss: 280 ft ↑ / 20 ft ↓
Access
The Ash Spring Trail is accessible from two locations.
The eastern terminus lies 200 feet north of the upper Herb Martyr Parking Area at the end of the the Herb Martyr Road. There is no sign, but a pedestrian gate marks the start of the trail. (31.87364, -109.23515)
The western terminus is immediately to the east of Ash Spring along the Basin Trail. (31.87341, -109.24360)
History
This road once led to a homestead at Ash Spring, built in the 1940s by Frank Pack, a local miner.1 He was later evicted by the Forest Service2 and the house burned down, but a chicken coop remains at the site.
Trail Description
After passing through a pedestrian gate (31.87368, -109.23519) along the Herb Martyr Road (FR 42A), the trail heads west for a quarter mile, with traces of the old road still visible in places here. Swinging south and crossing a small drainage, it resumes the general westward route after climbing out on the other side. The next 1000 feet pass along a riparian area on the north bank of Cima Creek, with thick tree cover. The wide cut of the old road is visible through here. After swinging away from the creek (31.87273, -109.24235) to the west-northwest for 250 feet, the trail angles hard to the right (31.87305, -109.24314) and spends the remaining 250 feet climbing to the site of Frank Pack's apple orchard, then back to the left again to pass his homestead site and connect to the Basin Trail. (31.87344, -109.24355) Ash Spring is located on the southwestern side of the trail just before its terminus.
Map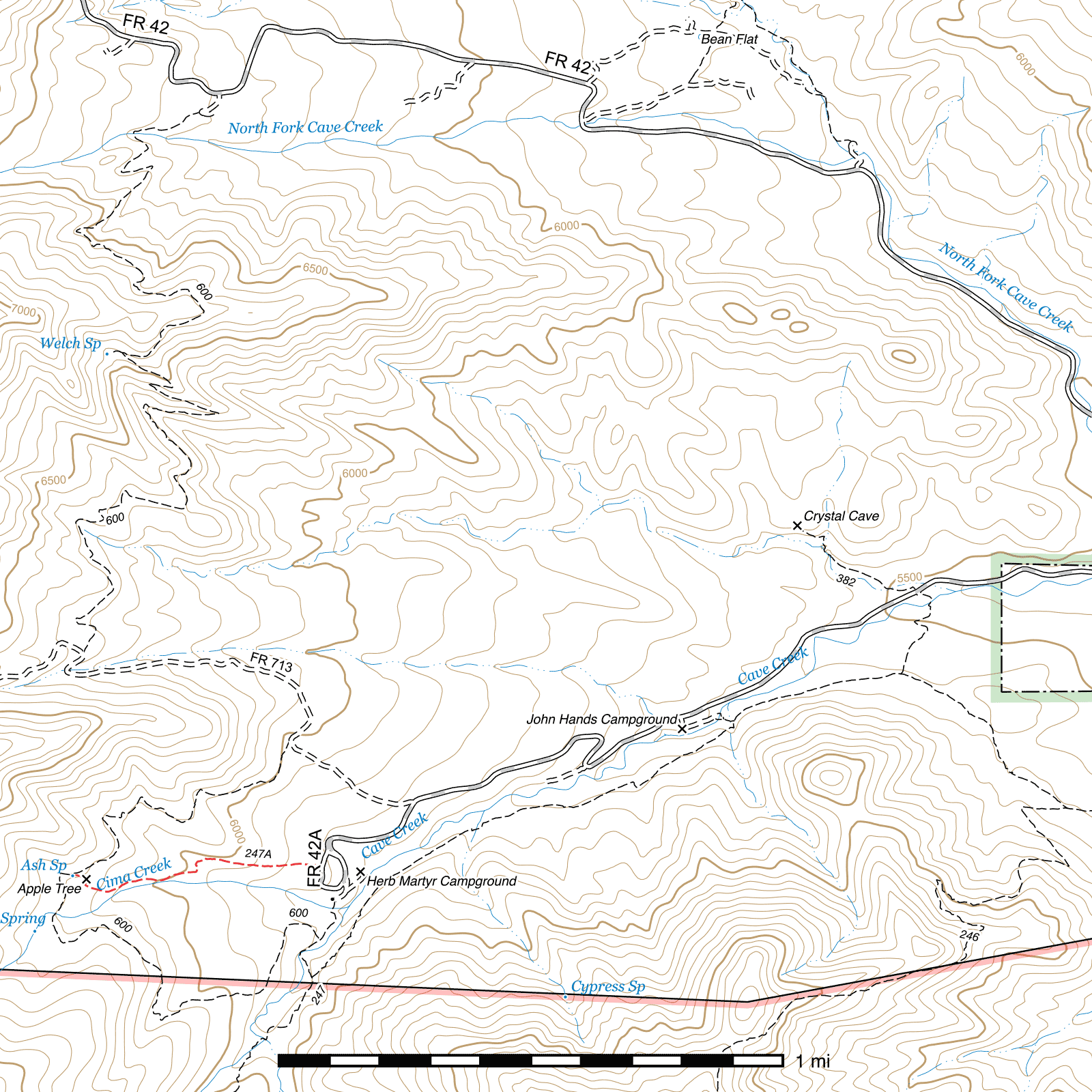 Footnotes
Last updated May 2, 2017.