Bear Wallow Trail #333
Current Trail Conditions
As of May 2019, this trail is free of deadfall following a Sierra Club service trip.
Length: 0.81 mi
Difficulty: easy
Condition: good
Elevation range: 9170 ft – 9290 ft
Elevation gain/loss: 100 ft ↑ / 150 ft ↓
Access
The Bear Wallow Trail is accessible from two locations.
The southern terminus leaves from the north side of the Crest Trail at the southern edge of Round Park. (31.86842, -109.28480) This junction is marked by a sign as of May 2019.
The northern terminus is at Centella Junction, midway along the Centella Trail. (31.87582, -109.27772) This junction is signed.
Trail Description
The Bear Wallow Trail begins where the Crest Trail enters the southern edge of the meadow at Round Park. (31.86842, -109.28480) There is not a sign right at the junction itself. The first 200 feet cut through the meadow to the northeast and the trail is generally fairly visible here. After 160 feet, the short Booger Spring Trail heads off to the southeast, (31.86871, -109.28441) and the Bear Wallow Trail's sign is positioned 50 feet northeast of that junction near the edge of the park. (31.86880, -109.28429)
From there, the trail passes through 0.17 mile of lightly burned forest before entering an area of complete devastation for the next 0.34 mile until Bear Wallow Spring. The east side of Fly Peak burned very hot, and all that remains over a roughly 25 acre area is blackened stumps. Post-fire flooding in this area has damaged the trail, despite repair efforts. Expect to cross numerous small washouts and eroded spots. They are not difficult to get across, but can slow you down somewhat.
Bear Wallow Spring lies on the southwestern side of the trail. (31.87248, -109.27812) A portion of a concrete slab is visible with a round lid you can lift for access. Water may be seen seeping out past the edges of the lid and flowing across the trail, but doesn't always keep flowing into the early summer. Any trough that may have once existed is either missing or buried.
From the spring it's another quarter mile through a comparatively beautiful and mostly unburned stretch of forest to Centella Junction, (31.87582, -109.27772) where the Centella Trail stretches in both directions. Turning right at this junction will take you 0.89 mile to Centella Point while turning left will return you to the Crest Trail 0.75 mile away at Fly Saddle. An abandoned trail up the back of Fly Peak once joined into the Centella Trail 250 feet west of here, (31.87559, -109.27846) and faint remnants of it can be seen still.
Map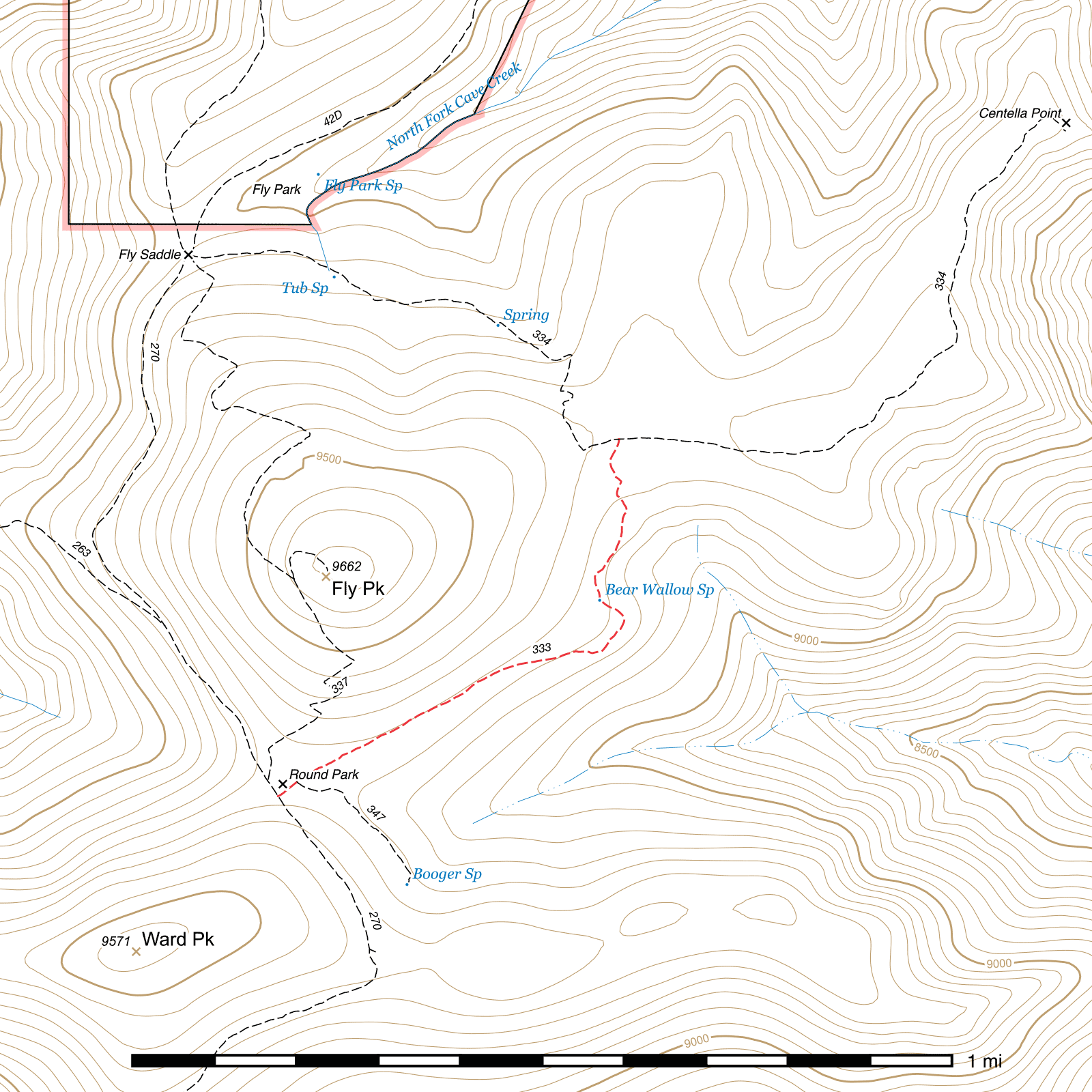 Last updated May 17, 2019.