Harper Trail
Important Note
This is an unofficial trail name. This trail is not signed, nor is it referenced on most maps.
Current Trail Conditions
As of April 2018, this trail has been cleared from Barfoot Park to the Harper Memorial Chapel by a volunteer trail crew.
Length: 0.11 mi
Difficulty: moderate
Condition: good
Elevation range: 8260 ft – 8320 ft
Elevation gain/loss: 55 ft ↑ / 5 ft ↓
Access
The Harper Trail is accessible from two locations in the Barfoot Park area.
The western terminus is located where the Barfoot Lookout Trail makes a sharp turn to the right 300 feet past its own western terminus. (31.91678, -109.27907) The Harper Trail heads east out of this junction, continuing roughly along the outer edge of the fence around the Barfoot Park meadow.
A 50 foot spur trail connects to the Harper Trail from a pedestrian gate near the southeastern corner of the Barfoot Park meadow, 200 feet east-northeast of Barfoot Spring. (31.91721, -109.27791)
History
Barfoot Park was once the location of Camp Victorio, a Boy Scout summer camp. The foundations of some of the buildings are still visible around the area. Harper Memorial Chapel, an A-frame structure at the end of this trail, was built in the early 1960s to commemorate Howard W. Harper, the Scout Executive for the region, who died in 1957.
Trail Description
This short trail travels through the thick pine forest along the southern edge of Barfoot Park and arrives at a structure built in honor of a boy scout leader. The area around Barfoot Park burned in the 2011 Horseshoe 2 fire, but it was a fairly light burn here and nearly all the trees are still alive.
From where the Barfoot Lookout Trail makes a sharp turn to the south, (31.91678, -109.27907) this trail continues east before descending gradually and swinging slightly to the north to approach the edge of the Barfoot Park meadow. A block structure beside Barfoot Spring may be visible on the other side of the fence. After 400 feet, you'll come to a junction with a spur trail to a pedestrian gate in the fence providing access to the meadow. (31.91721, -109.27791)
Continuing from the gate, the trail begins to climb somewhat steeply for the next 140 feet before swinging to the right (31.91731, -109.27748) and revealing for the first time the A-frame structure of the Harper Memorial Chapel 60 feet ahead. (31.91715, -109.27740) The front of the building faces roughly east towards Buena Vista Peak and rows of log "benches" are in place on that side. These benches have fallen into disrepair and some were burned by the fire. The rear of the building has been damaged by a fallen tree.
Map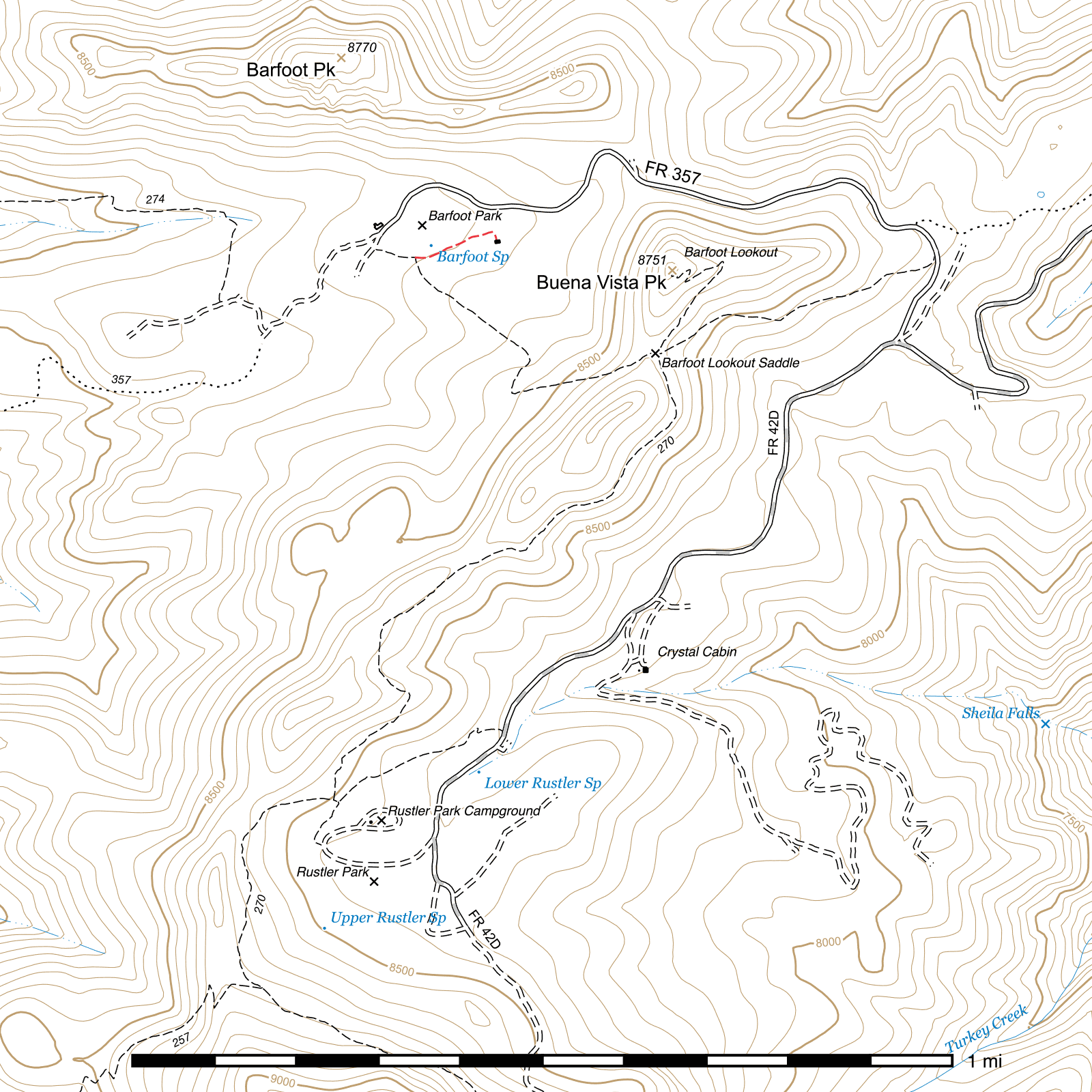 Last updated April 26, 2018.