Morse Canyon Trail #43
Current Trail Conditions
As of June 2019, this trail was in good condition, with flood damage from summer rains in 2017 repaired or rerouted around by several crews.
In April 2020, there have been reports of significant blowdown of multiple large trees at the top of the trail near Morse Saddle.
Length: 2.29 mi
Difficulty: moderate
Condition: good
Elevation range: 6690 ft – 8545 ft
Elevation gain/loss: 1,840 ft ↑
Access
The Morse Canyon Trail is accessible from two locations.
The lower elevation northern terminus is along the turnaround loop at the end of Turkey Creek Road (FR 41). (31.84967, -109.32558)
The higher elevation southern terminus is at Morse Saddle (31.83113, -109.32735) along the Turtle Mountain Trail, ⅔ mile below that trail's upper terminus and ½ mile above where the Pole Bridge Trail connects to it. The junction sign at Morse Saddle incorrectly suggests that the Pole Bridge Trail starts here and does not identify the Turtle Mountain Trail in either direction.
Trail Description
From the trailhead at the end of Turkey Creek Road (FR 41), the Morse Canyon Trail spends its first tenth of a mile atop an old logging road before leaving it at a switchback (31.84843, -109.32550) and climbing above on the western slope of the canyon. Traces of the old road can be seen below occasionally for a short distance. After nearly ⅓ mile, the trail drops back down and crosses (31.84481, -109.32635) to the east side of the canyon, where it remains for the remainder of its ascent.
A steep climb with over twenty switchbacks through dense pine and fir forest follows. Fire did pass through here, but in most areas only cleared out underbrush and left the canopy intact. Morse Canyon is relatively narrow, and that in combination with the density of the trees creates a very isolated feeling, with very few external views possible.
This is a popular trail for reaching Monte Vista Peak, and is in excellent condition and very easy to follow all the way to Morse Saddle. (31.83113, -109.32735) At the saddle, the Turtle Mountain Trail heads in two directions. To the right you can connect to the Pole Bridge Trail in ½ mile for a loop back down to Turkey Creek Road. To the left lie the Crest Trail and Monte Vista Trail in 1 ¼ mile, with the Monte Vista Peak fire lookout tower only 0.17 mile beyond.
Map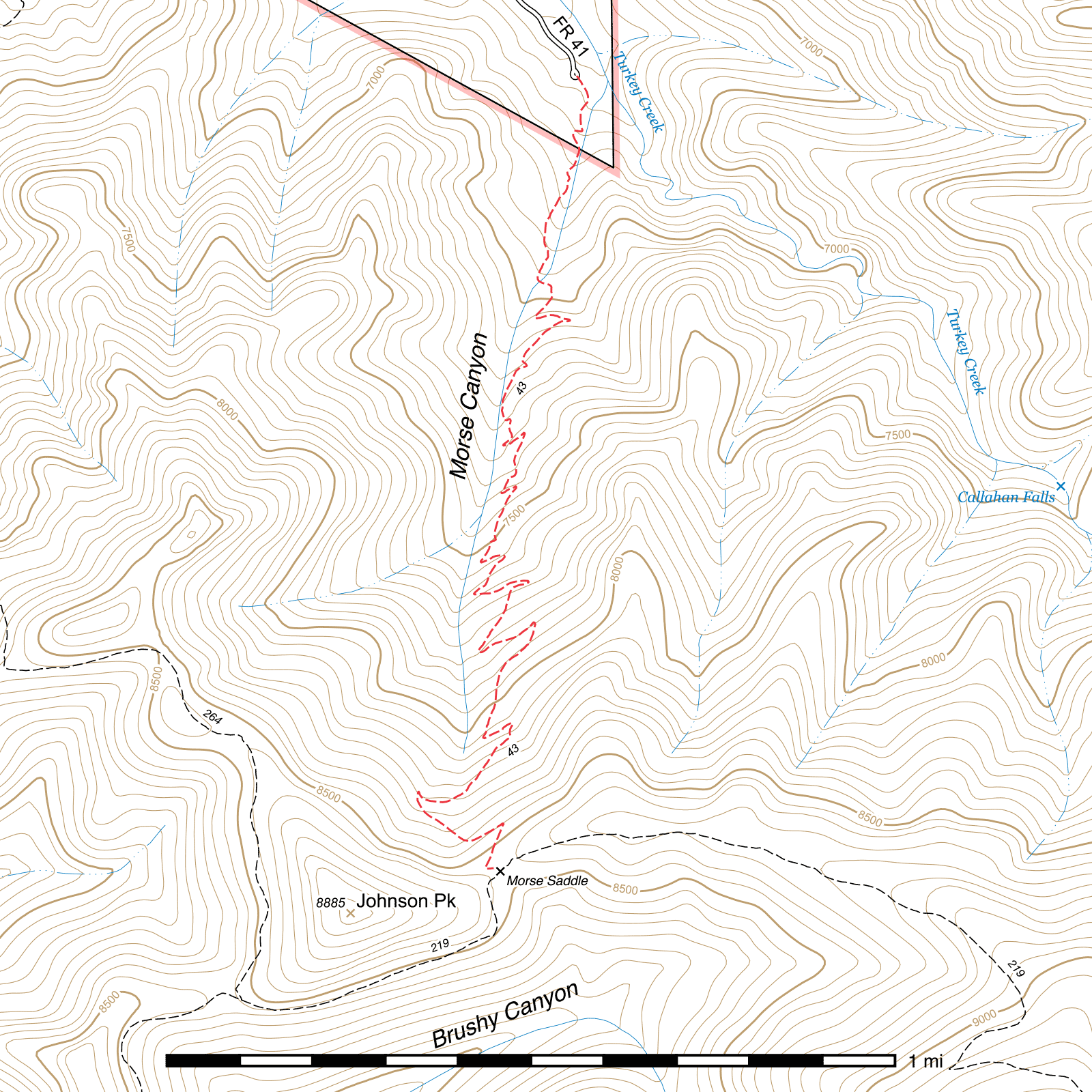 Last updated April 21, 2020.